Young Adults Group
Chimborazo Park
There are a few changes to our meeting format: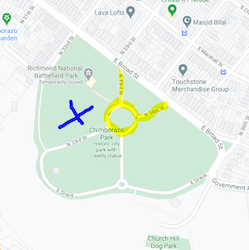 - We will meet on Sundays as noted at 6PM
- We will meet in a slightly different location in Chimborazo Park (better able to see the sun set over the city)
There is ample parking in and around the park and in the area highlighted in
yellow
. The field has a few large, open field areas. We will meet in the area marked with a
Blue X
and we will space ourselves 6ft apart.
All dates are weather dependent!!
I send out an email reminder following the Sunday service to be sure everyone has access to the readings for our meet up!
Please feel free to bring any snacks, drinks, charcuterie, leashed pets, blankets, lawn chairs, and whatever else might bring you comfort to our meetups!