What is God Calling Us to Do and Be?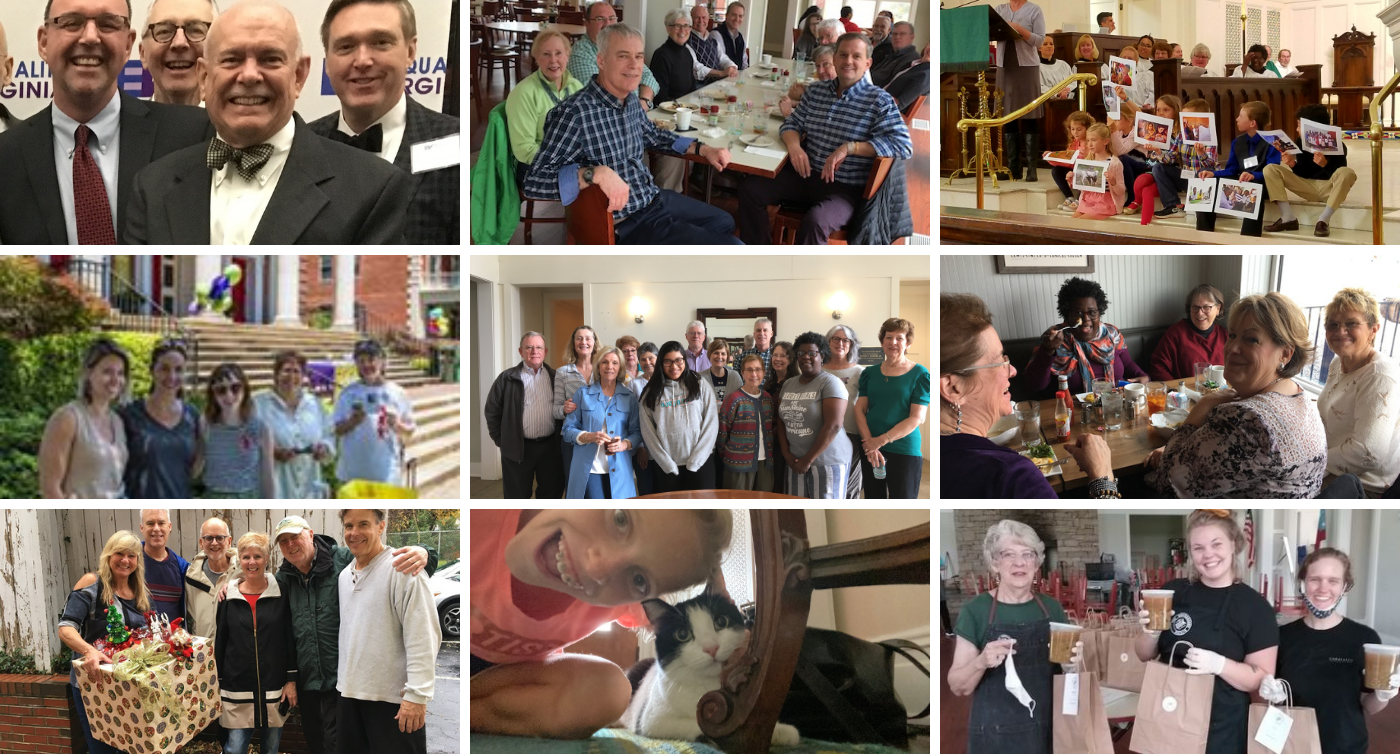 Rev. J. David Niemeyer completed his tenure as rector with us on September 30, 2021. Much loved and respected by the congregation throughout his many years of work and ministry with us, we now must move through our grief at his leaving and begin the process of calling a new priest into ministry with us. We do this from a position of health and strength - the leadership and membership are engaged in the work of the church and though we will be for a time without a rector - ministry will continue. The church is well cared for by its remaining clergy, interim rector, staff, and lay leadership.
This page will provide updates on the process for the congregation and perhaps a glimpse into the community for those who may wish to explore their call to serve with us.
As St. Mark's moves into an active period of discernment in preparation for a new rector and a new ministry, the latest information about this process, and how you can take part in it, will be communicated here, as well as in the church e-bulletins and Sunday service announcement bulletins.
If you are not subscribed to the church email list you may sign up using the link found at the bottom of our home page.
The Process:
In February 2022 the Vestry appointed a Search Team, consisting of 7 seven members two of whom co-chair the team. Get to know your Search Team members here.
March 1 we welcomed our Interim Rector, The Rev. Judy Davis
Our Search Team first met March 1, 2022. It established a meeting schedule and process timeline.
Where We Are:
Self Study: Spring + early Summer 2022
Congregational Input: The Search Team prepared and published a parish-wide survey on May 1. The Team began its evaluation of survey data in June. Here is the Survey Evaluation Summary:
One of the things that always amazes us about our congregation is how we consistently show up in a big way when there is important work to be done. Providing your input as we search for our next rector via our congregational survey was no exception. We received over 100 responses, each of which was thoughtful and showed the depth of care our community has for this place.
The Search Team has spent the last several weeks reviewing the data and comments and are so grateful for the guidance we've gotten as we represent the congregation's desires and aspirations for our next spiritual leader.
We wanted to provide you with some of the themes that we heard in the survey. (Top 4 themes, in order of importance based on # of responses). These will guide us as we draft our "job description" and interview candidates. Note that the themes included below capture where we had the overwhelming number of responses. We have also read the data and comments in great detail and have a good sense of the other aspects that matter to each of you, even if you don't see them highlighted below.
If you'd like more detailed information or want to discuss anything, feel free to reach out to any of us on the Search Team - we're happy to share what we can without sacrificing the confidentiality of the survey.
For now, know that we are using your thoughtful input to prepare our Community Ministry Portfolio, which the Diocese will use to advertise our position. We hope to have that prepared and posted sometime in late summer and hope to interview candidates beginning in late fall.
Thank you for showing, yet again, what a special, devoted, caring place St. Mark's is.
-The Search Team
Survey Themes
The most important personal characteristics for our new rector:
Open to - and values - all types of

diversity

(race, sexual orientation, economic, etc.).

Personable

, outgoing, energetic, accessible - a good listener with a sense of humor.

Spiritual

, well-read, intellectual.

Organized

, well-managed, and able to engage across different types of people, teams, etc. consistently and harmoniously.
The top challenges where a rector should be prepared to focus:
Attracting new congregants

, with a particular focus on increasing representation on multiple dimensions - age, race, sexual orientation, economic status, and social class.

Ensuring our church is well-positioned financially

and that the physical structure is maintained and improved upon.

Encouraging involvement from our current congregants

, especially around developing the next generation of ministry leadership teams and supporting youth, young adult, and family ministries.

Providing support to congregants in times of need.
The most important skills for our new rector:
Making scripture relevant to people's lives through preaching

, coupled with the abilities to plan and conduct worship as a central event of the congregation and to lead others in the formation of a deeper spiritual life. It is clear how much this congregation values a good sermon!

Providing pastoral care and crisis ministry

, being there for congregants in moments of crisis and the desire to nurture those in hospitals, nursing homes, hospice, and home visitation.

Effective management of St. Mark's operations

, including playing an active role in stewardship and personnel management.

Engaging leader that inspires existing and potential congregants to be involved in our community of faith.
Profile & Process: Fall 2022
A message from our Search Team: Dear St. Mark's family, Earlier this summer, we shared an update with you about our search for a new rector, which included themes from the congregational survey that so many of you completed. The outputs of that survey were used in the next step of our search process, which was preparing a Community Portfolio. The Community Portfolio details the functions and expectations of the rector position, the desired attributes of a successful candidate, and answers some questions about the specific opportunities and needs at St. Mark's. Unlike previous processes, this Portfolio is not published for the parish, rather it is posted by the diocese and national church for the review of prospective candidates. The Vestry during its September meeting approved the Community Portfolio and it is now posted on the national church website and through our diocese. It is available for candidates to submit their applications, which will be accepted through October 28th. If you know of any outstanding potential candidates who might be interested in our rector position, please make them aware of the opening. All clergy are familiar with the process if they are interested in applying. Once the application process comes to a close, we will review the applications, and select a number of candidates to interview over the coming months. While the Search Team will be working diligently during this period to select the best candidates, there will not be much information the Team can share with the congregation. We appreciate your thoughtfulness and understanding during this phase of the search process. Our intent has always been to be as transparent and open as possible, however, it is imperative that all applicant information, and the process at this stage, be kept confidential. You can be assured that the Team will provide updates as soon as it's appropriate. Again, the Search Team appreciates your patience as we move into this exciting stage of the search, and we ask for your prayers during this most important time. In addition, thank you for your continued active support of the ministries of St. Mark's; this helps ensure our next rector has a solid foundation to begin their ministry with us. Reach out to any of the Team members with questions or thoughts.
The Search Team
Sanford Eberly - Co-chair,
Mike Gephart - Co-chair,
Beth Wentworth.
Elizabeth Kyser,
Charlie Boisky,
Laura Hicks,
Ed Street
Search: Late Fall + Winter 2022/2023
As described above, interested candidates will be forwarded to us through the Diocese and National Church Office of Transition Ministry. It is the job of the Search Team to review and rank the candidates for consideration, then to conduct interviews and site visits. They will present a candidate to the Vestry for approval.
Our Search Team is currently interviewing candidates.
Search: Winter/Early Spring 2023
Our Search Team worked diligently bringing candidates to the church and finalizing their work. The fruit of their labor is our new Rector, the Reverend Benjamin Badgett. Rev. Badgett begins his ministry with us on March 12, 2023.
Our Search Team did a spectacular job and we are so grateful for their time and attention to this important ministry.
These are a few links explaining parts of the Transition Process provided by our Diocese, the Episcopal Church and other sources:
DOV Transition Process Website Page:
DOV Goals for Parish During Transition: Guidelines for the Interim Rector and the Parish
DOV Policy on Resigning (Retiring) Priests:
Transitions, an article from The Living Church
Trends in Transition Ministry from the Episcopal Church OTM