Search Team St. Mark's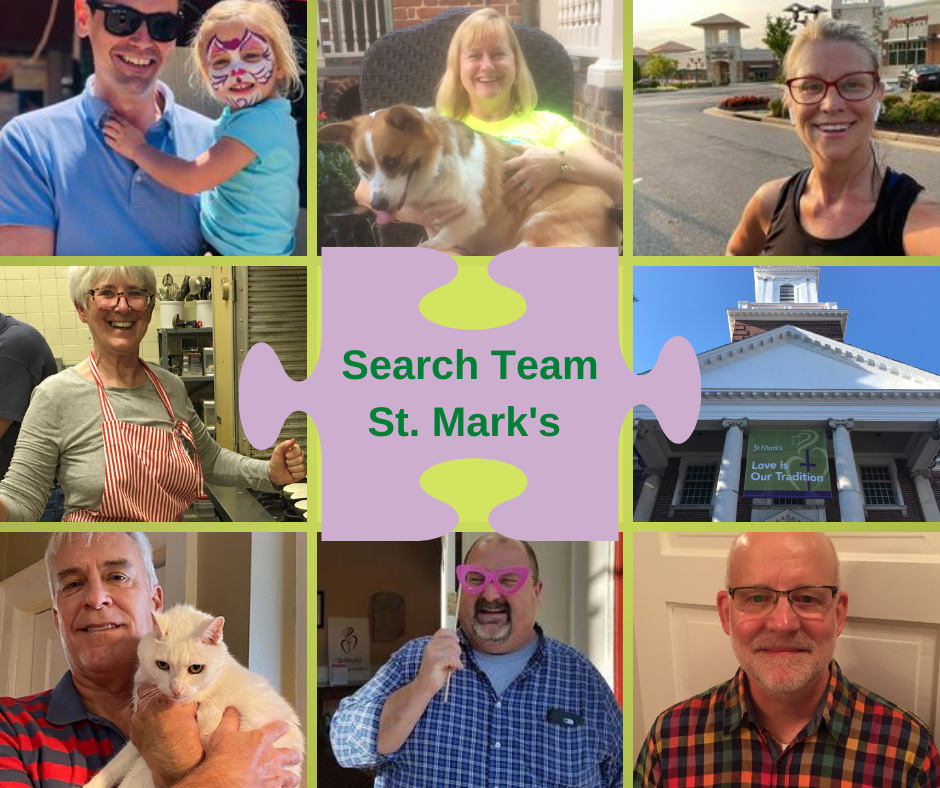 We are very excited as we begin our work on behalf of the entire St Mark's community. A time of discernment, discovery, affirmation of our mission, our future, our successes, challenges and hopes clearly realized and defined. So we can share these with clarity across the broader Episcopal community of priests. Leading us to that one individual who has the gifts needed at this time and is called to join with us as our rector. Our process will be bathed in prayer and the love of God and Christ Jesus we all share. More particulars will be forth coming and ways for everyone to have a voice and share their hopes for our future.
Sanford Eberly Co-Chair
Having joined St Mark's over 30 years ago, sung in choir, served on the vestry, participated in multiple ministry areas, all affording a marvelous rewarding gift to my life. Am honored and humbled to serve as a co chair with such a committed, caring Search Team!
Mike Gephart Co-Chair
I was first welcomed to St. Mark's over 25 years ago and it has enriched my life ever since. Serving on the Vestry and various other committees over the years has been a wonderful learning experience and has led me to personal and spiritual growth I never thought possible. I am humbled to serve on the Search Committee and look forward to calling a rector that will continue St. Mark's tradition of love and caring for it's members and the community. Through discernment and prayer, I'm confident St. Mark's will remain a very real and tangible example of God's unending love for us all.
Charlie Boisky
St. Mark's has, for the last 10 years, been a place of joy, refuge, community, and unconditional love for me and my family. I am excited for the possibilities that lay ahead in this search and look forward to bringing the perspective and voice of our younger families into the process.
Laura Hicks
I have worshipped at St. Mark's for 24 years. I sing in the choir and have served as treasurer, chaired a previous search committee, and served as chairperson of the stewardship ministry team and chairperson of the arts committee. I worked for the Diocese of Virginia for 17 years. Our church is a wonderful blessing to me and I am constantly inspired by the amazing gifts of our St. Mark's family. My prayer is that we will find someone who will joyfully walk with us as we live into our core values.
Elizabeth Kyser
My husband Don and I have been members at St. Mark's since 2018. We are so glad we found such a welcoming parish to join. In addition to being on the search team, I enjoy being a reader at the Sunday service. I am a school librarian at Ettrick ES in Chesterfield County. We have 2 daughters- Emily who is 23 and Meredith who is 20. In my spare time, I love to read, run, and watch Call The Midwife.
Ed Street
I've been a member of St. Mark's for 20 years. From day one I was hooked by the warm, casual and diverse nature of our congregation and the excitement of joining others in serving the community. I have served on the vestry, organized and participated in several mission trips and served as Outreach chairperson. I look forward to many great years ahead.
Beth Wentworth
I have attended St. Mark's since I settled in the Fan in 1981 and became a member in the early 1990's. I have served on the vestry and occasionally serve as a reader, and I have a particular love for the Outreach and Adult Education programs at St. Mark's. I look forward to working with each of you as we discern our needs and hopes for our new rector.