The Call of St. Mark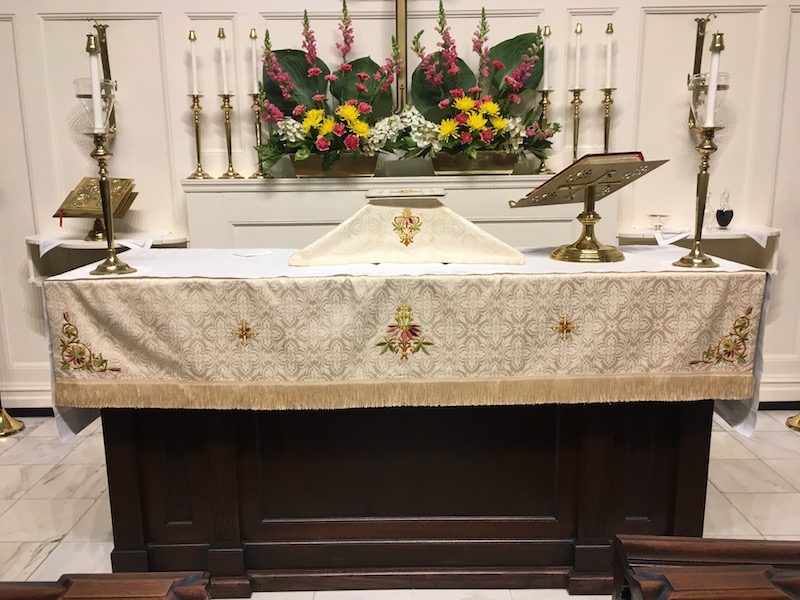 The central act of faith and worship in the Episcopal Church is Holy Communion
This is the table, not of the church, but of the Lord
It is made ready for those who love God and for those who want to love God more.
So come, you who have much faith and you who have little;
You who have been here often and you who have not been here long;
You who have tried to follow and you who have failed. Come, because it is the Lord who invites you.
It is God's will that those who want God should meet here.
What does this mean? We believe it means you belong. We are all children of God, created in the divine image. Coming to church helps us deepen that relationship. Coming to the Episcopal Church means we follow a "via media" – a middle way that traces back to the time of the Reformation and Queen Elizabeth I – that allows for diversity and change in the church.
The Episcopal Church USA is a part of the worldwide Anglican Communion – a union of churches who pray from a book of common prayer and celebrate communion with bread and wine. Not all the churches of the Communion agree on all matters but we remain in union. The Episcopal Church was formed just after the American Revolution – you know if you throw the king out you don't want to continue to have him as the head of your church. We have a Presiding Bishop and bishops of regional dioceses of the church. It is a hierarchy but not a monarchy.
Several rituals mark participation in the life of the church. Baptism, the sacrament of water and oil is an official welcome into the church universal – you are sealed as Christ's own forever. Baptism is a joyous community celebration and we are happy to schedule baptisms during our main service any Sunday of the year. Confirmation is an expression of commitment to the church and it represents a maturing understanding of the call of Christ in our lives.
The Episcopal Church recognizes baptisms and confirmations that have been celebrated in other traditions. Reception is the sacramental receiving of those into the life of the Episcopal Church. In years past people transferred their "letter," which is fine but not necessary.
Belonging at St. Mark's is a matter of being present and being available to God, participating in the common life of the church, and working to follow the call of Jesus and the Holy Spirit.
Want to know more about the Episcopal Church? We offer an "Episcopal 101 and 102" each program year. Chat with Father David if you are interested.