Outreach Ministries
The Ministries to others undertaken by this parish are a vital part of our identity as Christians. The varieties of ways in which we share the love Christ with our neighbors are a carried out with joy and celebration. We continue to work on deepening both our faithful understandings of and witness to the Gospel through the work we do, and are called to do. We will continue to support the work of this ministry and those we serve through our time, money, and prayer.
These are a few of our ongoing Outreach Ministries:
CARITAS
Many thanks to all who served during our July Intake ministry! We provide a much appreciated service to CARITAS and the 32 ladies in the shelter program.
CARITAS Furniture and household goods donation drive, July 22 & 23
Thanks to everyone who donated! We filled the truck! If you still have items and are interested in donating - here is the CARITAS list. All items should be taken directly to CARITAS
Frosty's Yard Sale
Donated goods are "re-purposed" and the funds raised are donated to a local service organization. All funds raised are used to support local non-profits and St. Mark's outreach ministry ! Learn more about the yard sale ›
Food Pantry and Soup Ministry
From 9 - 10:30am 2nd and 4th Saturdays of each month, we are open to provide simple non-perishable food bags, a hot nutritious meal, clothing, and fellowship to those in need of welcome and a little peace. We need folks to pack bags twice each month, to help serve and clean up. Contact the church to help, 358-4771. The Food Pantry will be closed during July and August 2017.
Wednesday Night Host Ministry
Members of the congregation volunteer their time to open the church to 12-step recovery programs from 7 - 9pm.
City of Richmond Cooling Center
Offering respite from the heat on Summer days when the temp/heat index is 95 or above. Volunteer service for this ministry is needed - if you have time during the day, noon-4pm call the church to volunteer, 358-4771. The ministry is one of presence and welcome. We serve ice water, provide pet crates, and provide electrical outlets for recharging phones & mobile devices.
School Supplies and Support for the Anna Julia Cooper Episcopal School
An independent, tuition-free, faith-based middle school for students of limited resources primarily from Richmo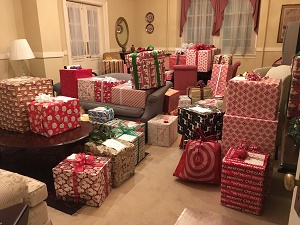 nd's East End neighborhoods. Our 2017 list is below. Items can be dropped off at the church during office hours, Tuesday - Friday, 11am - 4pm, or on Sundays during church. Please bring your donations by Sunday, August 27.
AJCES 2017 Back to School list:
Sticky notes
Wide-ruled notebook paper
Pencils
Dry erase markers
Pens
Lysol wipes
Christmas for the Elders
A program to provide personalized gifts for older adults living in Richmond City district 8 who otherwise would have no Christmas. Personalized lists are usually available in November, wrapped gifts are due back mid December for delivery to our recipients.
McGuire Veterans Hospital
A ministry of presence to the patients and families at McGuire. Ice cream and fellowship every other month.
CIRCLES RVA
COMMUNITY | EMPOWERMENT | TRANSFORMATION
Dedicated to Breaking the Cycle of Poverty
The Issue
Nearly 30% of Richmond's residents live below the poverty line, which is twice the national average and the second highest poverty rate in Virginia. More alarming is that 40% of the city's children live in poverty.
Dozens of individuals and faith communities who find these numbers unacceptable met for over a year to find a volunteer-based model to affect real and sustainable change. Many of them possess firsthand experience helping families overcome barriers and escape poverty.
The group chose Circles – a project which gives the leadership role to those motivated people who want to move to economic stability. It gives these Circle Leaders they tools they need to build a life plan. Then, these Circle Leaders are connected with Circle Allies – people with resources and a social network willing to be trained as mentors and cheerleaders – working to empower them, realize their plan and move to a more secure life. In this relationship, people with different backgrounds, histories and socioeconomic status work together.
Circles RVA endeavors to meet Circle Leaders wherever they are, and not leave them where and how they were found. This is transformative work. Upon program completion, most Circle Leaders have increased their income and assets, and decreased their reliance on government benefits.
Circles RVA intends to become a chapter of Circles USA, which has more than 70 chapters in North America. They have a 10 year track record of success working to remove the barriers to ecomomic stability and breaking the cycle of poverty.
There is a Place for You
Please join us for the next Circles RVA meeting on Wednesday, June 28 from 5:00 - 7:30 pm at Grace & Holy Trinity Episcopal Church in the Parish Hall at 8 North Laurel Street * (next to the Altria Theater).

At this meeting we will welcome dozens of new volunteers who are committed to breaking the Cycle of Poverty and improving the lives of individuals living in Richmond. In the spirit of the Circles approach to building community we will share a simple meal, review the progress that is being made on our efforts, and provide an overview of the Circles model for our new volunteers -- a refresher that we can all benefit from and appreciate.

Please let us know if you can join us via email to CirclesRVA@gmail.com so we can ensure our dedicated volunteers and meal preparers make enough for the crowd. I'm of Italian descent and my mother would be extremely disappointed if I didn't ensure there was plenty. And we welcome your help with meal preparation.