Outreach Ministries
The Ministries to others undertaken by this parish are a vital part of our identity as Christians. The varieties of ways in which we share the love Christ with our neighbors are a carried out with joy and celebration. We continue to work on deepening both our faithful understandings of and witness to the Gospel through the work we do, and are called to do. We will continue to support the work of this ministry and those we serve through our time, money, and prayer.
These are a few of our ongoing Outreach Ministries:

Lunches for CARITAS The Healing Place Ministry: May 31
The CARITAS lunch ministry has changed - in wonderful ways for their program participants. We now take a fresh lunch to Healing Place, providing a meal for those participating in mock interviews (apprx. 20-25 people). Lunch suggestions are: subs, wraps, spaghetti, mac & cheese, meatloaf, chicken, sides, beverage, etc. Food is delivered and served on site. The Healing Place is located on Dinwiddie Ave, If you are interested in helping by procuring the needed goods: - let us know. If you want to come help cook, deliver, and/or serve let us know when you are available.
And there are still days when we will deliver bagged lunches - so lots of opportunities to help!
Sign up for the CARITAS The Healing Place Lunch Ministry May 31
CARITAS Intake Ministry, nightly July 6 - August 2
St. Mark's is hosting CARITAS Intake NIGHTLY between 5 and 7:30 p.m. from Saturday, July 6th through Friday, August 2nd.
This Intake Ministry provides the CARITAS staff and the shelter women with a valuable in-town check-in space, close to neighborhood resources and the Broad Street bus line.
Additionally, we offer the ladies a congregation from whom to receive fellowship, snacks and cold beverages while awaiting the arrival of the CARITAS bus for transportation to their overnight shelter site.
The Intake Ministry provides congregants with three weeks' worth of opportunity to contribute light snacks, bottled water or other beverages and/or provide service time in set-up and distribution of snacks to the ladies.
Sign up for the CARITAS Intake Ministry
Frosty's Yard Sale - Saturday, May 4, 8am - 1pm
Donated goods are "re-purposed" and the funds raised are donated to a local service organization. All funds raised are used to support local non-profits and St. Mark's outreach ministry ! We start setting up on Tuesday, April 30, daytime hours tba, evenings from 6-8pm, Saturday the day of the sale, 8am - 1pm, and clean-up after from 1-3pm.
Questions? Meet after the 10:30 service to find out more - Frosty will be there to answer your questions!
Learn more about the yard sale ›
Sign Up to Help with the Yard Sale!
Food Pantry and Soup Ministry
From 9 - 10:30am 2nd and 4th Saturdays of each month, we are open to provide simple non-perishable food bags, a hot nutritious meal, and fellowship to those in need of welcome and a little peace. We need folks to pack bags twice each month, to help serve and clean up. Signup on-line (include the date or dates you can help), or contact the church to help, 358-4771.
Sign up to help with our Food Pantry!
Wednesday Night Host Ministry
Members of the congregation volunteer their time to open the church to the12-step recovery program from 7 - 9pm.

ACTS Bags - Spring/Lenten Project
ACTS is a Richmond-based organization that helps working people in need hang on to their housing. They do this through small monetary grants, budgeting help, and gifts of products not covered by SNAP. Each spring we sponsor a gathering of household and personal care product to help support this ministry.
This is the ACTS Care Bag list.
City of Richmond Cooling Center
Offering respite from the heat on Summer days when the temp/heat index is 95 or above. Volunteer service for this ministry is needed - if you have time during the day, noon-4pm call the church to volunteer, 358-4771. The ministry is one of presence and welcome. We serve ice water, provide pet crates, and provide electrical outlets for recharging phones & mobile devices.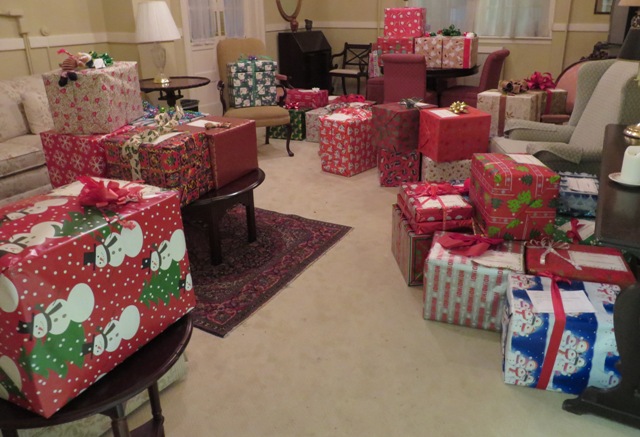 Christmas for the Elders - Annual Christmas Project
A program to provide personalized gifts for older adults living in Richmond City district 8 who otherwise would have no Christmas. Personalized lists are usually available in November, wrapped gifts are due back mid December for delivery to our recipients.
McGuire Veterans Hospital
A ministry of presence to the patients and families at McGuire. Ice cream and fellowship every other month.