Outreach Ministries
The Ministries to others undertaken by this parish are a vital part of our identity as Christians. The varieties of ways in which we share the love Christ with our neighbors are a carried out with joy and celebration. We continue to work on deepening both our faithful understandings of and witness to the Gospel through the work we do, and are called to do. We will continue to support the work of this ministry and those we serve through our time, money, and prayer.
These are a few of our ongoing Outreach Ministries:
CARITAS
A week of providing shelter for the homeless including hospitality, recreation, and worship. In July 2017 we will be hosting CARITAS Intake, sign up to help with this important support for CARITAS and the women's shelter program. Ministry is simple - arrive about 5pm, open the building, put out snacks and water, welcome the ladies, CARITAS staff is present to do the actual intake and get the ladies on the bus to their shelter site, and clean-up and lock-up between 7-7:30pm.
Frosty's Yard Sale
Donated goods are "re-purposed" and the funds raised are donated to a local service organization. All funds raised are used to support local non-profits and St. Mark's outreach ministry ! Learn more about the yard sale ›
Food Pantry and Soup Ministry
From 9 - 10:30am 2nd and 4th Saturdays of each month, we are open to provide simple non-perishable food bags, a hot nutritious meal, clothing, and fellowship to those in need of welcome and a little peace.
Wednesday Night Host Ministry
Members of the congregation volunteer their time to open the church to 12-step recovery programs from 7 - 9pm. Sign up to host ›
City of Richmond Cooling Center
Offering respite from the heat on Summer days when the temp/heat index is 95 or above.
School Supplies and Support for the Anna Julia Cooper Episcopal School
An independent, tuition-free, faith-based middle school for students of limited resources primarily from Richmo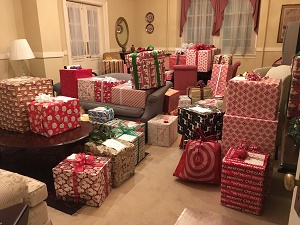 nd's East End neighborhoods. Look for an updated list in August for the beginning of the school year
Christmas for the Elders
A program to provide personalized gifts for older adults living in Richmond City district 8 who otherwise would have no Christmas. Personalized lists are usually available in November.
McGuire Veterans Hospital
A ministry of presence to the patients and families at McGuire. Ice cream and fellowship every other month.