Pastoral Care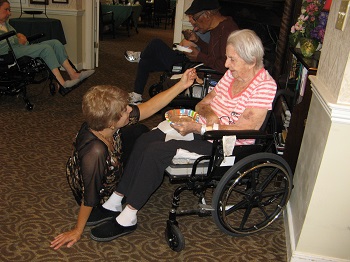 The Pastoral Care Team meets on the first Sunday of the month after the 10:30 am service. This team provides ongoing support to those in our community who are home-bound or hospitalized through visits, calls, and administering of home communion. This group also manages the training and schedule of lay eucharistic visitors and flower delivery to the ill and home-bound. We also send cards and notes to acknowledge birthdays and other occasions.
To nurture our pastoral ministry we read and discuss books relative to the work. Currently we are reading There's No Good Card for This: What to say and do when Life is Scary, Awful and Unfair to People you Love by Kelsey Crowe and Emily McDowell
If you are interested in knowing more about our ministry of presence and prayer, please join us.

Pastoral Care Forums:
Topics are relevant to the life stages and changes we all experience as we age. Professional presenters from the Senior Resource Group of Richmond come to share their knowledge with us on topics ranging from senior living and home care options to wills and estate planning.
Faith 2 Fate -
ADVANCED CARE PLANNING FOR OUR COMMUNITY - A NEEDED CONVERSATION AND RESOURCE
Faith 2 Fate Team – Need 2 0r 3 persons to commit to be trainers
Faith to Fate has succeeded on the framework of three core programmatic steps: 1) Benchmarking surveys to gauge the level of each congregation's existing ACP knowledge and preparation before any Faith to Fate program interventions were undertaken, 2) Free educational forums that were open to the public, 3) Legal Documents Day events, where advance medical directives, wills and powers-of-attorney were prepared, legally executed and delivered entirely free of charge. Then these steps were repeated by each church every six-months. In the new faith institutions we anticipate enrolling, this same framework will be employed. Each participating church receives a "mini-library" of advance care planning reference materials, comprising three books and a notebook of relevant articles, state and federal laws, current medical issues, et. al.
Time commitment:
Training – 1 ½ hours (evening)
Educational Forum – 2 hours (Saturday)
Documents Day – 4 hours (Saturday)
Those who commit to be trainers for this program also have the option to go further and participate in a certification process for advanced care planning.
Time frame:
TBA
contact Malinda, dre@stmarksrva.org with questions, to participate as a trainer, or to sign up as a workshop participant
Lay Eucharistic Visitor Training
March 17
10am—1pm
A Eucharistic Visitor is a lay person authorized to take the Consecrated Elements in a timely manner following a Celebration of Holy Eucharist to members of the congregation who, by reason of illness or infirmity, were unable to be present at the Celebration. Qualifications include: Confirmed communicant in good standing; Faithful in worship and in stewardship; Mature in faith; Of good repute in the congregation.
Training includes various theological understandings of the Holy Eucharist in the Anglican tradition, methods and practice of the administration of the elements, use of the Book of Common Prayer and approved rites for visitation, the basics of pastoral visiting, as well as training in the Prevention of Elder Abuse and Sexual Misconduct Prevention Training.